History of Captain's Landing Waterfront Inn
Captain's Landing Waterfront Inn was established in 2001.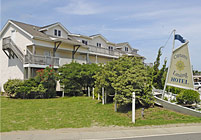 George and Betty Chamberlin are the owners and developers and welcome you to the Inn and unique shops that share the property.  George is originally from Long Island, New York and is a former USAF pilot, commercial airline captain and chief pilot.  Betty was born on Ocracoke and is a ninth generation direct descendant of William Howard, the last colonial owner of Ocracoke and is a great granddaughter of local legend and character Captain Horatio Williams.
The extensive planning and design for Captain's Landing Waterfront Inn began in 1998.  The exterior evolved from old pictures belonging to Betty's mother, Elizabeth.  When deciding on the exterior look for the new hotel, Betty remembered the pictures that she had seen as a child of the old Ponzer Hotel and their finely dressed guests of the 1800's.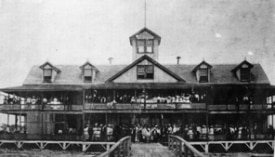 The Ponzer Hotel was located near the former Ocracoke Coast Guard station. Those pictures were presented to the architects [Ben Cahoon and Associates] to draft the look for the building.  Today, those old pictures hang in the office as a remembrance of Ocracoke's lodging history.
The name for the Inn was chosen in honor of the families that were captains of both air and sea. Each suite bears the name of native pilots of the 1800's that plied the waters that surround Ocracoke. Those names can still be found in the local phone directories today. After two years in the planning stage and a year of construction, Captain's Landing Waterfront Inn opened in June of 2001.
Located directly on the water and in the heart of the Village of Ocracoke,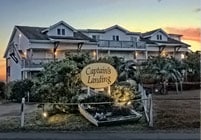 Captain's Landing Waterfront Inn maintains a nostalgic look and a heart-felt ancestral significance to Betty and her family.
Betty, George and the staff welcome you to the Inn with island hospitality and will do their very best to help you enjoy your stay.